Separating facts from fiction: 6 tips for better sources in infographics
By Alisa De Backer, Feb 14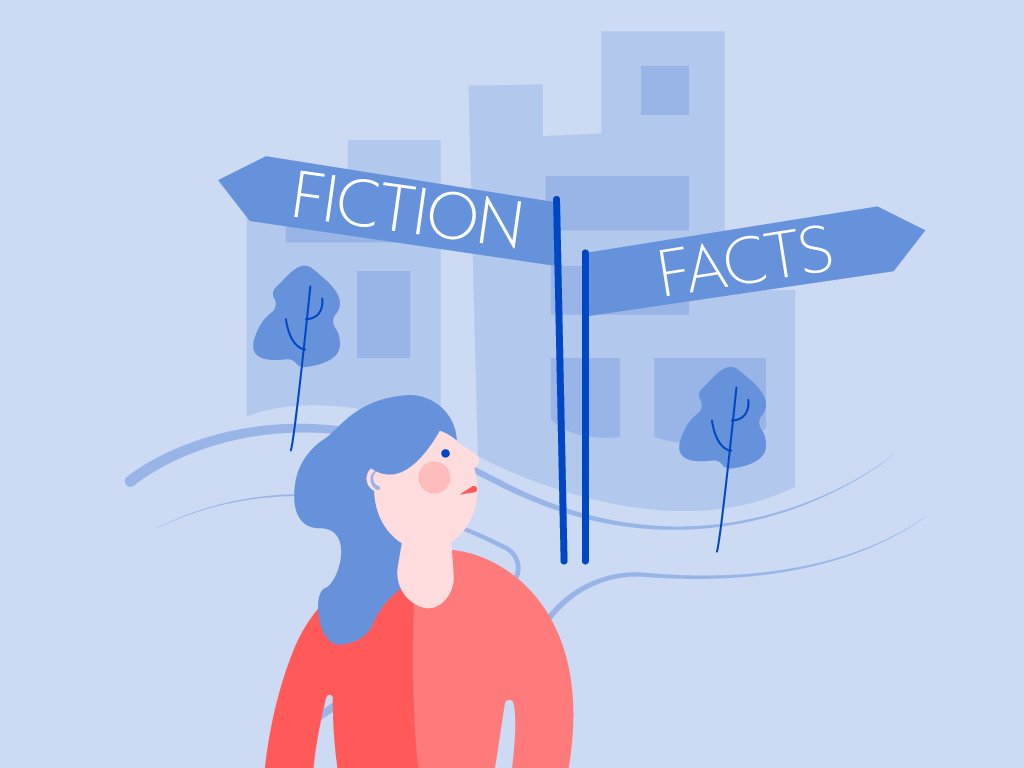 The ever-shifting media landscape and the ways we produce and consume information make it incredibly hard to verify how accurate information is. How can we be certain that what we read, hear or see is reliable?
Infographics are no exception. Quite the opposite.
Infographics are built on stories that rely heavily on facts & figures. These facts & figures come from different sources. There is no question that the quality of the sources can make or break an infographic.
And yet, there are so many – way too many in my opinion – infographics that misinform. Blown-up numbers and clever designs provide comfortable cover for propaganda.
So how should you go about your next infographic? Where should you get your sources from? How to make sure the data you use is as reliable as possible?
Sounds confusing? Despair not – there is a way forward.
In this article, I share 6 tips, or rules we apply when evaluating content reliability and sourcing for infographics.
1. There is no such thing as 100 % reliable data but there is a huge amount of unreliable data.
First things first! As soon as you accept this and move further, the better. As a trade association professional, you might come across sources provided by members or partners across Europe.
Realistically, you cannot check 100% of your sources with certainty, despite all your best efforts. This is a perfect example where a disclaimer is not just a good idea, but also a must for your infographics.
2. The facts & figures should be balanced in your infographics. Avoid extremes.
You know exactly what I'm talking about and we all have seen them: 100% textual infographics, without any figures. Another example: full blown-up figures that cover every inch of the white space.
Raise your hand if you feel like reading an A4 full of numbers!
Nobody? No surprise then.
Infographics without figures hold no credibility. They open the door wide to propaganda and are off-putting for your audience. On the other hand, an infographic without a story is not an infographic. Figures and data should help get your story across and validate your points.
3. Use official sources and give credit
This one seems like a no-brainer but official sources always give credibility. A good place to start – the EU institutions, UN bodies, the OECD and my favourite – despite the fact that the raw data could be better visualised –  Eurostat.
4. Have a look at what your friends are saying
Once you have a pretty good idea about the direction of your story and the main messages, you might consider looking around at stories similar to your topic.
You will find that this process helps with the overall credibility and reliability of your story and sources, at least in 2 ways:
Other stories come with their own set of sources that you can check, compare and validate your own sources
It allows you to update and sometimes rethink your story and messages. Your topic is not unique, but your story angle and design can certainly be!
5. … but don't dismiss the differences of opinion
This point is closely linked to the point above. It is something you come across frequently during the research process into your infographics.
You surely can have a strong story based on solid figures and reliable sources. But so could your competitor, right?
Whose story should your audience believe?
The most important aspect to remember when drafting the story and visualise it, is that infographics are not zero-sum games. Extreme stories and controversial messages can perform well on social media and get some attention. However, they are short-lived and could affect your overall credibility.
At all times, keep in mind the purpose of your infographic: inform, educate, clarify and/or introduce a complex topic. You know what they say – if a story is too good to be true, it probably isn't!
#6. Provide links to other infographics or publications you released to reinforce your story
And last, but not least, don't forget to include links to related studies, publications and communications initiatives your trade association already released/delivered. But don't overdo it. As with everything in life, balance is key.
Over to you!
How do you choose the sources for your infographic? Share it in the comments below.